Creating a welcoming and inviting home doesn't have to be complicated or expensive. There are a few simple things you can do to make your home feel warm and inviting for you and your guests. As an interior designer thiruvalla, I deeply understand the local culture and what my clients are looking for in their homes.
One of the most important things you can do is to choose a color scheme that makes you feel happy and relaxed. Bold colors can be invigorating, while softer colors may be more calming. Consider your favorite colors and the feelings they evoke before making any decisions.
It's also important to consider the flow of your entryway. You want guests to feel like they can move freely and easily without being crowded. Make sure there's enough space for people to move around, and that there aren't any obstacles in the way. If you're looking for a top-notch interior designer in thiruvalla.
Finally, take some time to create a space that reflects your personal style. Add some unique touches that make your entryway stand out from the rest. raided adding a cozy throw blanket or some pretty plants to make it feel like your own.
Add some personal touches
Welcoming guests into your home is always a warm and gracious gesture. There are many ways that you can make a great first impression, and it doesn't have to cost a lot of money. A little effort goes a long way in making your home feel hospitable and inviting.
One of the best ways to make a welcoming home entrance is to add some personal touches. A framed welcome sign or doormat is a great way to start. You can also add some greenery or flowers to your entryway to give it a fresh, natural look. If you have the space, setting up a small table with a vase of flowers or a bowl of fruit is another nice touch.
Another way to create a welcoming environment is to make sure your entryway is well-lit and clutter-free. This will give guests the impression that you're happy to see them and that you take pride in your home. Taking the time to tidy up before visitors arrive shows that you respect their time and value their company.
Making a great first impression doesn't have to be difficult or expensive. By taking some simple steps, you can turn your entryway into a warm and inviting space that will make guests feel welcome from the moment they arrive.
Use color to make a statement
Color is one of the easiest—and most effective—ways to create a welcoming entry. And, of course, you don't have to limit yourself to one hue. A palette of colors can convey a sense of fun and energy, as this entrance does. The key is to use colors that complement each other and that you absolutely love. If you're not sure where to start, look to nature for inspiration. This cheerful entry takes its cue from the foliage surrounding it with its sage green door and pops of pink in the flowers and pillows.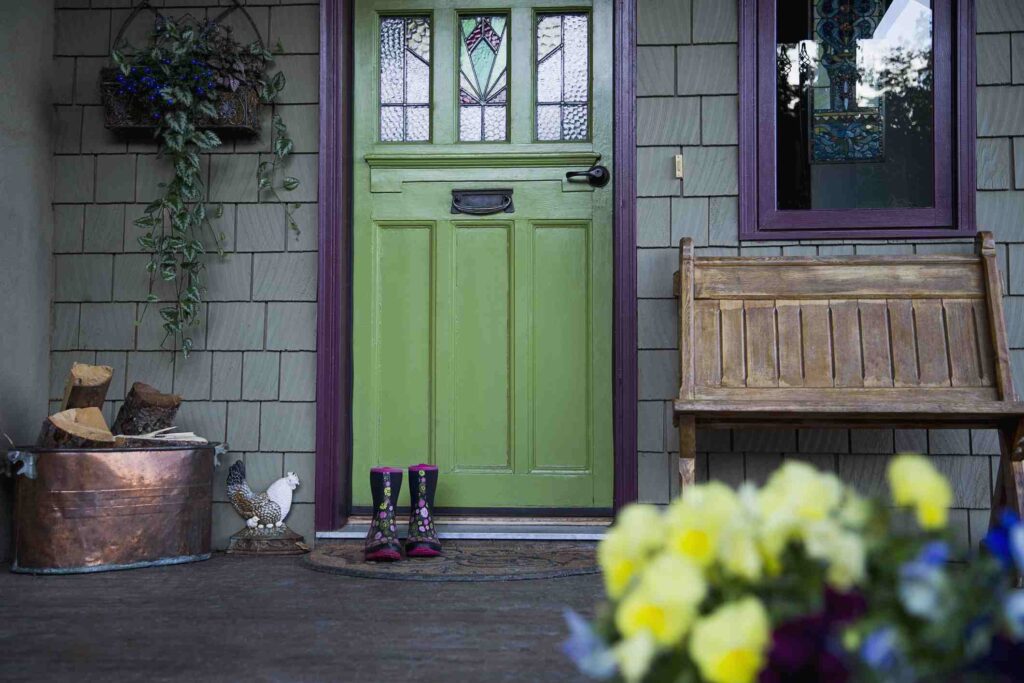 Bring in some nature
A great way to make a welcoming home entrance is by bringing in some nature. You can do this by adding a potted plant or two to your entryway. Or, if you have the space, consider adding a small garden. This will add some life to your entryway and make it feel more inviting.
Another way to make a welcoming home entrance is by adding some personal touches. This could include adding a welcome mat with your family name on it or hanging a sign that says "welcome". These small touches will make your entryway feel more personal and inviting.