Your bedroom should be your personal retreat, a place where you can express your feelings and collection. These are the top decorating tips for your bedroom.
Select a Subtle Colour
Choose soothing colors and a calm palette of monochromatic shades instead of bright primary colors. Color theory is important: Gentle hues such as blue, green, and lavender are calm and serene. Rich jewel-toned colors help to create a feeling of comfort and coziness. These could include warm browns, deep reds or topaz. Use toned-down versions of your favorite color in the bedroom. This could mean using mauve or pumpkin in place of eggplant or tangerine.
Don't forget the ceiling.
The ceiling is the fifth and final wall in a room.f Do you see a blank, boring surface when you lay down in bed? A subtle pattern or soft color can be added to the ceiling. The ceiling should be painted a lighter version of the wall's color. This will visually lower the ceiling, and create a sense of intimacy and comfort. You could also wallpaper the ceiling, add architectural elements like beams or moldings, or use a decorative painting application.
A canopy or tented bed with dressing hanging from the ceiling and silver-leafed bedroom ceilings are great options. They can add luxury and sensuality to your space while also adding color, texture, and design. A molded medallion or chandelier made of crystal or delicate colors can bring color, pattern and texture to the "fifth walls" above.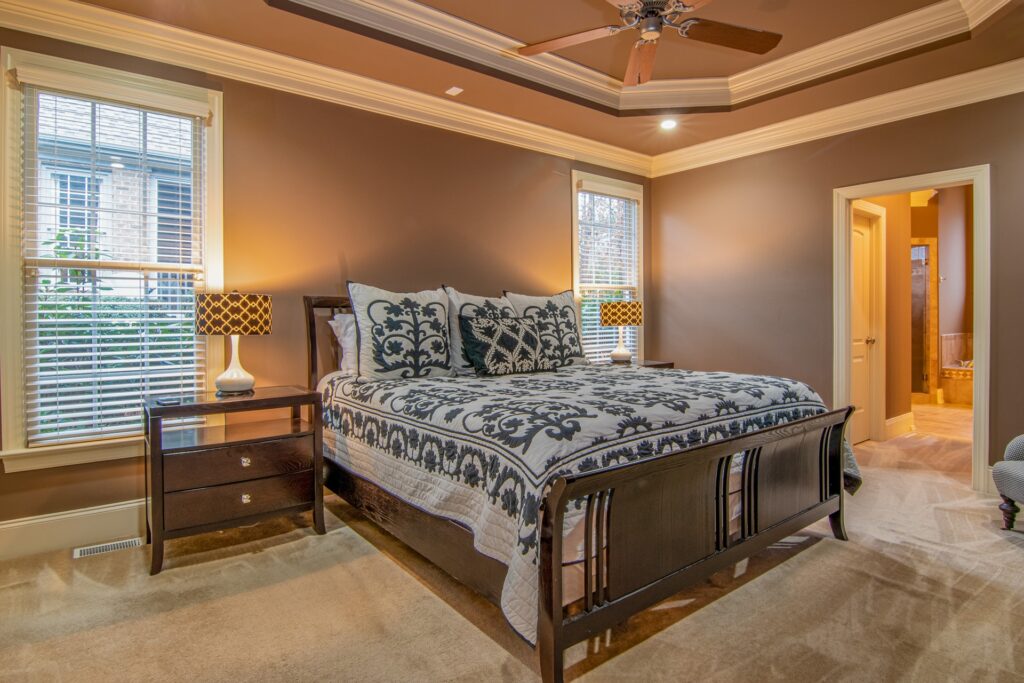 Keep your bedroom simple
No matter what decorating style you choose, a bedroom should be cozy, simple, elegant, and sophisticated. Your bed should be at least three feet from any side walls or large furniture pieces. Keep at least two feet space between your bed, low furniture such as tables or dressers, and any side walls.
If you have to get around the bed to access the closet or bathroom, you can think about how to move it. You only need what you actually use in your bedroom.
A bed, some bedside tables and chairs, as well as a dresser, are all you need.Anything else is clutter. Place a chest of drawers inside the closet if you have enough space. Keep accessories to a minimum. You can choose a beautiful piece, arrange family photos, add flowers or candles, and then leave it alone. Select the right size furniture
Select the right size furniture
Begin by drawing a floor plan of your bedroom and then measuring it. Bedroom furniture should be sized to the space it will live in. A small bedroom should not have a large, heavy bed and dresser. A tall headboard can be used to visually bring down a high ceiling.
Choose furniture that can fit into your bedroom if it is big. Place an ottoman or chair at the foot of your bed. A small furniture and accessories will look out of place in a big room.
Add plenty of storage options
You can add a calm feeling to a bedroom by storing things away from view. You will feel more spacious and calm in your room.
A large bedside table should have drawers or doors so that you can store lotion, books, and reading glasses. You can also choose a smaller dresser or skirted table for more storage.
To store extra sheets, blankets and pillows, you can use a trunk or storage bench at the foot.
A headboard with sliding panels or built-in shelves is ideal for storing books and other accessories.
An organization system that is custom designed can maximize closet space.
You can hide the boxes under your bed by placing a bed skirt underneath.
Storage closets
Consider Adding Several Lighting Options
It's a good idea to "layer" the lighting in a bedroom. Ambient lighting lights the entire room. Small lamps can provide light for reading or other activities. Accent light is used to illuminate the walls.
A bedside lamp equipped with a movable arm can be used to focus the reading light exactly where it is needed. A dimmer should be installed for each light. You can make each light selective by installing an on/off switch.
Your Bedroom can be a real getaway
You can learn to control your phone, computer, TV, blackberry, and exercise machine from the bedroom. Make your bedroom a place you love to relax and recharge. A room that is dedicated to reading, sleeping, or romance will be a delight.
Our interior designers in pathanamthitta are experts in designing the bedroom interiors. For more information contact us now!