It is the designing of workplaces by Id3 interiors company, for corporations. The interior designers in thiruvalla company designs each and every aspect that comprises the office space according to the clients' needs, budget and corporate brand image. This includes formulating floor plans, elevations, 3D perspectives (exclusive computer designed life-size images of what a proposed interior will look like after it is set up), furniture planning (including desks, chairs etc.), lighting schemes (fluorescent/LED/halogen) and other electrical layout depending on the requirement. Office interior designing comprehensively accounts for aesthetics as well as functionality including day-to-day activities performed inside offices. The benefit of hiring professional designers especially for this type of work is that they are aware of ergonomic requirements and the latest trends in office interior designing.
The two main categories of corporate offices are open plan offices and closed cubicle spaces. An interiors company will work closely with clients to determine their needs, which could be either one of these or a combination of both depending on the nature of business/profession. In general though, an Id3 interiors company is responsible for designing the background scenery (walls/flooring/carpeting etc.), furniture, electrical layouts adhering to safety standards and other accessories while allowing enough flexibility for future expansion or alteration according to the client's wishes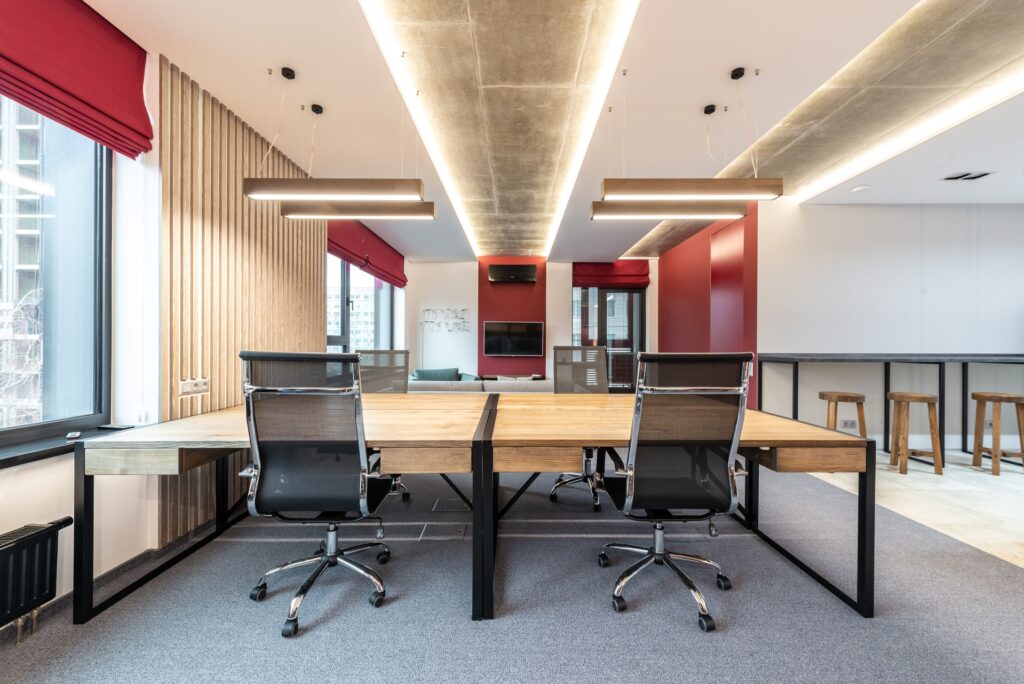 What does a typical office interior design project include?
A typical office interior design project entails Analysis by a designer regarding the number of employees, the place of work (whether it is an open floor plan or cubicle spaces), planning for maximizing space utilization and designing to suit the company's brand image. Next, the designer will plan for furniture layouts including desks, chairs, cabinets etc. depending on usage e.g.: if files need to be stored in multiple drawers, then there should be more than one file cabinet; if companies want their employees' seats facing each other then their desks should accommodate that arrangement; when books are needed they are placed in book shelves or racks etc.
Following this he/she will design electrical layouts also taking into account safety measures such as fuse boxes etc., while lighting plays a crucial role in enhancing productivity in day-to-day office activities. Every aspect of the room is designed keeping in mind safety and functionality including layouts for water/coffee points, storage and waste disposal. After this stage comes the installation process (which also requires close coordination between interiors company and clients) adhering to deadlines before employees begin working in that space.
What is commissioned interior designing?
Commissioned office interior designing entails an individual or a group hiring an interior designer for consultancy with respect to any work such as renovations, upgrades etc., which may require professional guidance. The purpose might be to change the existing design i.e.: replace old desks or cubicles with new ones, upgrade lighting fixtures etc.; rearrange furniture; add more electrical fittings; change wall colours; lay carpets etc. The interiors designers in changanassery company can also provide suggestions after assessing the space/ place of work to make it more aesthetically appealing, functional and easier for clients to manage, without having unexpected expenses or disruptions in daily routine.
For example, if the company is thinking of redesigning their reception area because they feel it lacks charm then an interior designer will recommend what values should be included in the design – bringing out the brand image through accessories like furniture, lighting, artworks etc.; harmonious colour schemes; effective use of space; efficient electrical layouts…etc.
A disorganized office has attributes such as cluttered desks with piles of paper everywhere; lack of storage facilities for files and supplies; not enough electrical sockets or lights or plugs for computers; dirty carpets or walls; lack of privacy etc. Employees generally feel unproductive in such settings since their attention is always diverted to their surroundings rather than the work at hand. They are also more susceptible to accidents e.g.: tripping over wires, falling down due to insufficient lighting etc.